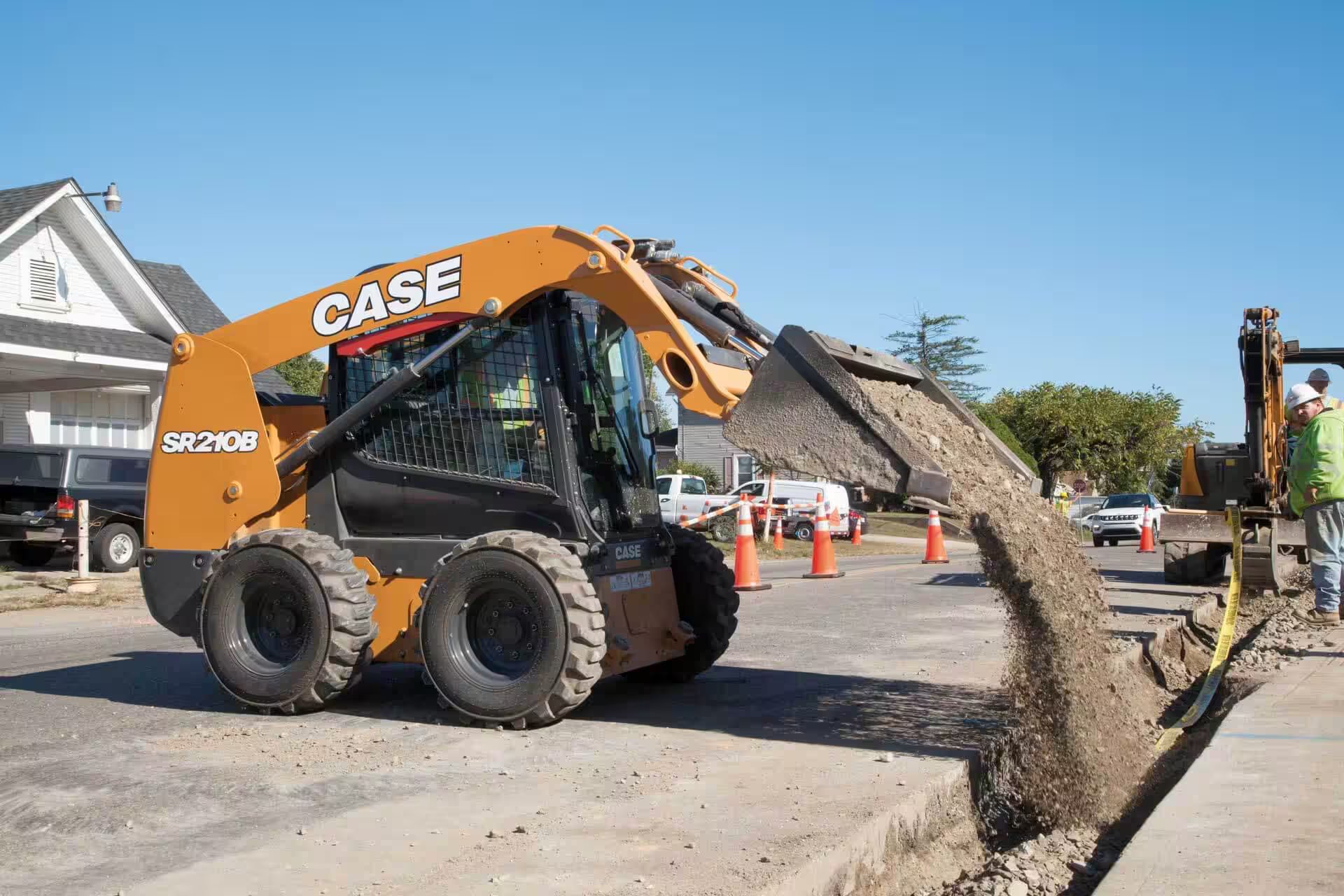 The SR210B is an extremely popular medium-frame skid steer that looks and feels compact, but offers operators the performance of a larger machine – greater torque, breakout force and auxiliary hydraulic performance than comparably sized machines — all accomplished at 74 horsepower to leverage completely maintenance-free Tier 4 Final emissions solutions with no diesel particulate filter (DPF) or fluids to add.
Visibility and Comfort
CASE skid steers feature industry-leading visibility with a backup camera (operational in both forward and reverse), cab-wide rearview mirror, large front and side windows, a low entry threshold for easy entry and greater visibility down to the bucket, a low sloping rear hood and 360-degree lighting. Each model features one of the industry's widest cabs, and control handles provide more comfortable operation throughout the day. Redesigned controls, cupholders and air vents further create more legroom and comfort.
Optimal Control
CASE skid steers are available in electro-hydraulic, mechanical and mechanical hand and foot configurations. Electro-hydraulic models with the 8-inch LCD multi-function display give operators the most control, with easy switching between ISO and H operating patterns, the ability to save operator profiles and application settings, and the flexibility to set total machine responsiveness to low, medium or high — or to independently set loader arm and drive response to meet exact operator preference.
Productivity and Performance
The SR210B is an all-around performer at 2,100 pounds rated operating capacity (2,200 pounds with optional counterweights), with standard (3,050 psi and 24.2 gpm) and high-flow (3,050 psi and 33.2) auxiliary hydraulics that provide greater attachment performance compared to smaller skid steers. Bucket breakout force of 7,270 pounds makes it an excellent groundwork machine, and a long/stable wheelbase provides excellent performance on varied terrain.
Ease of Ownership
All critical checks and service points are grouped at the rear of the machine for easy access, and the 8-inch LCD multi-function display provides the operator with real-time data on machine operation and performance. At 74 horsepower, the SR210B features a maintenance-free Tier 4 Final emissions solution that requires no fluids and no lifetime filter service or replacement (no diesel particulate filter (DPF).
Financing and
Leasing available
Practical payment options for the equipment you need
At Terapro Construction, we have various financing options, offering the best rates on the market for your purchase or long-term lease of new or used equipment. In some cases, we'll even take back your used equipment. Talk to your representative for more information.
Aucun résultat trouvé