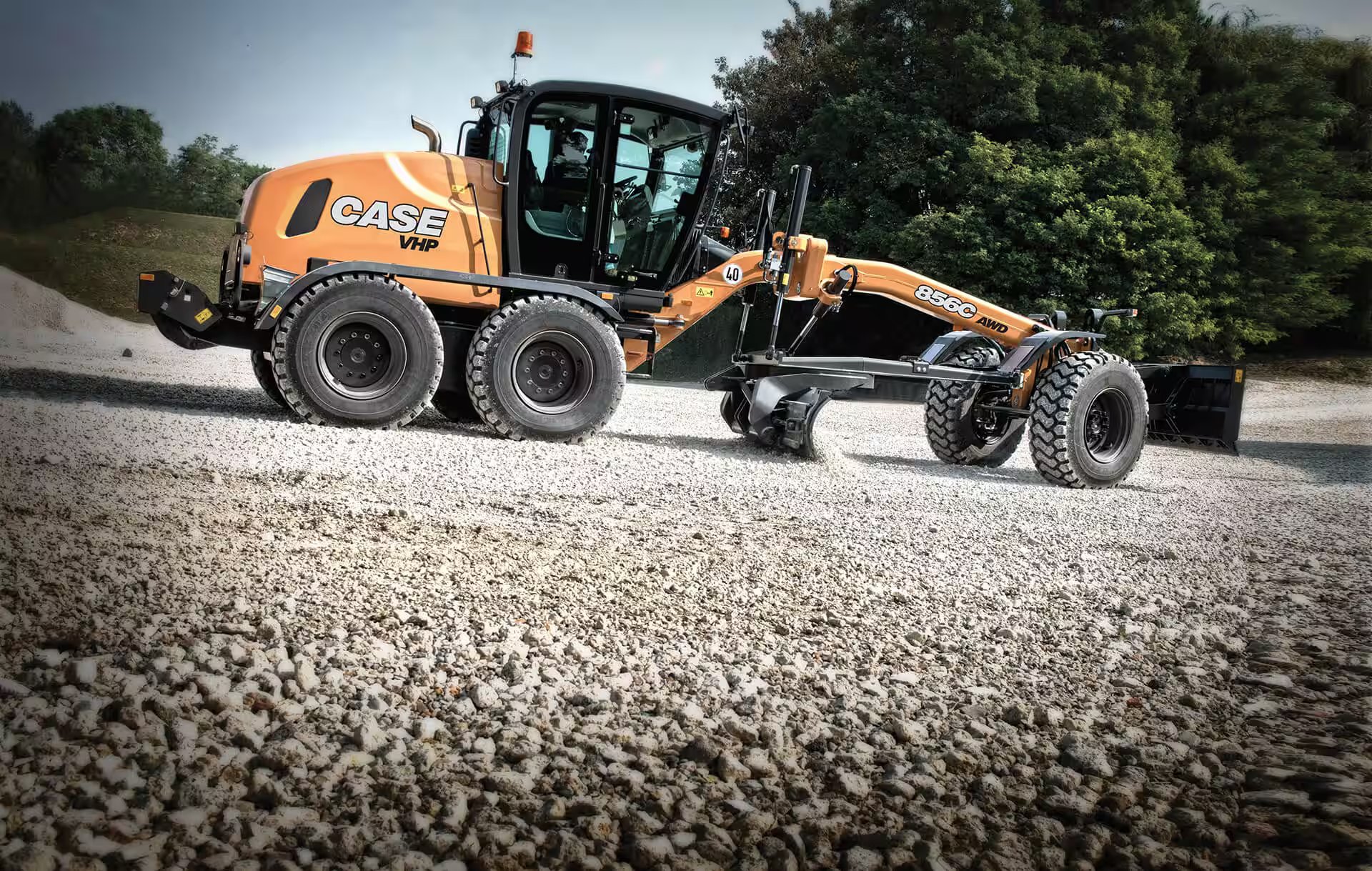 The mid-sized, 173-hp CASE 856C motor grader features one of the most intelligent, load-sensing hydraulic circuits on the market and an innovative moldboard design to provide reliable traction and balanced blade performance in challenging underfoot conditions, on slopes and with uneven load demands. This Tier 4 Final grader is available machine control-ready for precision fleets, features a variety of intuitive controls to maximize productivity and comes standard with ProCare, the industry's most comprehensive machine support program.
Purpose-Built Performance
An Ergopower transmission provides smooth automatic shifting for steady performance regardless of acceleration/deceleration or grade. A 100-percent automatic differential lock with no-spin power splitting actively manages tractive effort and a high-flow floor switch enables operators to instantly maximize output whenever necessary. The exclusive, heavy-duty A-frame design provides superior stability and the moldboard tilts, pitches, moves laterally and is housed on a 5-position saddle to achieve bank-cutting angles of up to 112 degrees. Direct-mounted hydraulic controls reduce "play," giving operators positive feedback and better control during precision applications. Additional options include a front dozer blade, rear ripper, moldboard float feature and heavy-duty circle drive motor.
Innovative and Efficient Emissions
Emissions requirements are met through an innovative combination of FPT catalyst and filter solutions, and an Automatic Catalyst Management (ACM) system that requires no operator input and will not affect vehicle performance — all emissions management actions take place in the background.
CASE Comfort & Visibility
With a rear-mounted design that's positioned behind the articulating gooseneck and large floor-to-ceiling safety glass, operators have an excellent view of the moldboard and surrounding area at all times. A rearview camera with 7-inch LCD monitor and an advanced lighting package are also available to further improve jobsite visibility and safety. To keep operators comfortable, the standard ROPS/FOPS cab features a heated air-ride seat, adjustable control console, CD radio and sunshields.
Simple Serviceability
The 856C continues the CASE legacy of simple, accessible serviceability. The engine hood hydraulically flips up with the pull of a lever from inside the cab, providing easy access to key engine components from the catwalk. All checkpoints are located at ground or fender level to speed up daily maintenance and to save even more time, an automatic lubrication system is available. Plus, the standard protection of ProCare includes three years of planned maintenance.
Financing and
Leasing available
Practical payment options for the equipment you need
At Terapro Construction, we have various financing options, offering the best rates on the market for your purchase or long-term lease of new or used equipment. In some cases, we'll even take back your used equipment. Talk to your representative for more information.