TS6 Series Agricultural Tractor
ANYTHING BUT BASIC
New Holland TS6 Series II tractors: Affordable, powerful, efficient, comfortable, and up for your most challenging agricultural tasks.
REWARD YOURSELF WITH COMFORT
Both the VisionsView™ cab and open, flat-deck platform give you plenty of room and operating ease.
MORE POWER AND TORQUE
Tier 4B engines provide more horsepower and torque than previous models while reducing emissions and fuel use.
HIGH-CLEARANCE MODEL AVAILABLE
The New Holland TS6.120 High-Clearance tractor easily navigates through rows of vegetable and specialty crops.
COMPLETE LOADER READY OPTION
You can order both TS6 Plus and Value tractors with complete factory installation of everything needed for a matching New Holland front loader. The loader ready option includes the loader joystick, two-function mid-mount valve with hoses and couplers to attach to the loader hydraulics, TPS mounts and grill guard.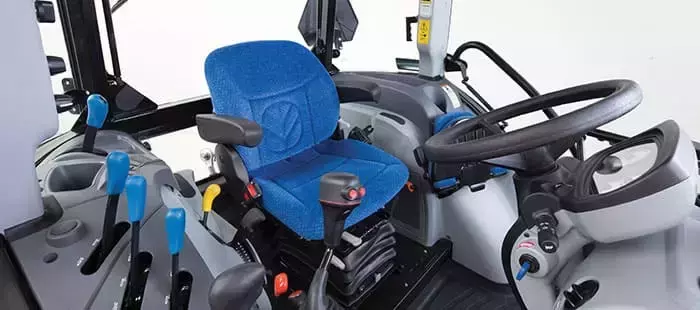 YOUR CHOICE OF CAB, ROPS, 2WD, 4WD
Four TS6 models range from 90 to 115 PTO horsepower and fit a wide range of farming practices. Choose a model with two- or four-wheel drive, with an open ROPS platform or New Holland's VisionView™ cab. For vegetable and specialty crops, look to the TS6.120 High-Clearance model.
Financing and
leasing available
The equipment you need, the payment plan that works for you.
At Terapro, we have various financing options offering the best rates on the market for your purchase or long-term lease of new or used equipment. In some cases, we'll buy back your used equipment. Talk to your representative for more information!