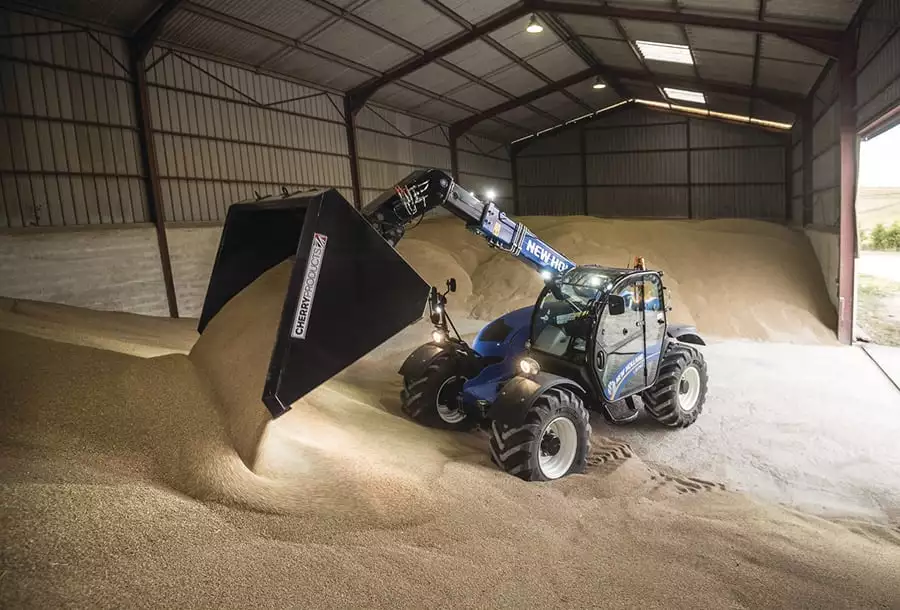 Telehandler TH Series Agricultural Tractor
STACK, SCOOP, LOAD, GRADE, CARRY AND MORE
High-performance TH Series telehandlers are the ideal material handling solution.
VIEWS THAT MAKE YOU MORE PRODUCTIVE
TH Series telehandlers give you unparalleled visibility from the 360 Vision cab, now with up to 10 LED lights for clear night visibility.
TOUGH CONSTRUCTION
With a rugged frame, heavy-duty boom construction, and ample hydraulics, these telehandlers are built for severe duty.
EXTREME VERSATILITY
Choose from a broad range of buckets and attachments you can swap quickly to handle more jobs.
THREE MODELS FOR MULTIPLE APPLICATIONS
Choose from our New Holland large-frame telehandlers equipped with Tier4B 4.5-liter NEF engines, all provide responsive power and the reach to pick up, transport and stack large bales and dozens of other applications. See which model is best for you.
TH7.42 CLASSIC AND TH9.35
If you're looking for a machine dedicated to scooping, stacking or loading with the standard comforts of an ag tractor, New Holland offers three affordable large-frame standard-configuration models that are the ideal choice for broad-acre, mixed farm and contract applications. • 130 max horsepower • 4F/3R powershift transmission with speeds up to 22.9 mph • 36.9 gallon-per-minute (gpm) variable displacement pump (31.7-gpm gear pump option available) • 3-mode steering system • Full-time 4WD and front limited slip differential
THE TH7.42 ELITE
The TH7.42 Elite provides higher power, enhanced performance and deluxe comfort for demanding farm and contract operators who want a dedicated material handling machine for the most challenging applications. • 143 max horsepower • High power-to-weight ratio for heavy material handling tasks • 6F/3R powershift transmission with automatic speed selection for speeds 4/5/6, and speeds up to 23.7 mph • 36.9-gpm variable displacement pump hydraulic system operated via an armrest-mounted joystick • 3-mode steering system with automatic alignment • Full-time 4WD and limited-slip differential on both front and rear axles
Financing and
leasing available
The equipment you need, the payment plan that works for you.
At Terapro, we have various financing options offering the best rates on the market for your purchase or long-term lease of new or used equipment. In some cases, we'll buy back your used equipment. Talk to your representative for more information!
Aucun résultat trouvé