T8 GENESIS® PLM Intelligence™ Series Agricultural Tractor
MORE POWER AND PRODUCTIVITY
Choose from five models from 250 to 396 rated horsepower with an enormous 40% torque rise plus up to an additional 71  boosted horsepower from the Engine Power Management system, all combined with a 600 hour service interval to keep your operating running and profitable.
MAXIMUM VERSATILITY
The new IntelliView™ 12 display and Sidewinder™ Ultra armrest is second to none!  We built your control package around the revolutionary idea that customer adjustments should come standard to increase your operator efficiency.
CAB ENHANCEMENTS
Redesigned cab and controls, including the most functional and customizable armrest and display you'll find, add new levels of comfort and convenience to your long and hectic days.
CONNECTED MACHINE
Reduce downtime and keep operators in the field with added connectivity and support features. With remote viewing capabilities, you can access the in-cab IntelliView™ 12 display to help identify problems and gain deeper insight.
YOUR PARTNER IN THE FIELD
Technology will continue to evolve over time, but farming will always depend on a foundation of community and connection.  The GENESIS® T8 with PLM Intelligence™ is designed to strengthen and reinforce those bonds, bringing together the people and innovations that make modern agriculture possible.
• Customer-to-Vehicle Connectivity – allows you to run your farm business from the cab, the farm office or the other side of the world.
• Dealer-to-Vehicle Connectivity – helps you minimize downtime with proactive support, remote monitoring, diagnostic, and in-field software updates.
• Advisor-to-Vehicle Connectivity – lets you stay in touch with agronomists and other experts to improve decision-making on the move.
MYPLM™ CONNECT TELEMATICS FREE FOR 5 YEARS
Assisting fleet managers to optimize machinery management. Providing real time field data at your fingertips. Enabling accurate data management to improve operating efficiency. This all now comes as standard across the entire T8 range, with file transfer. What's more, in order to improve your uptime, New Holland's Breakdown Assist service has been fully integrated, free of charge.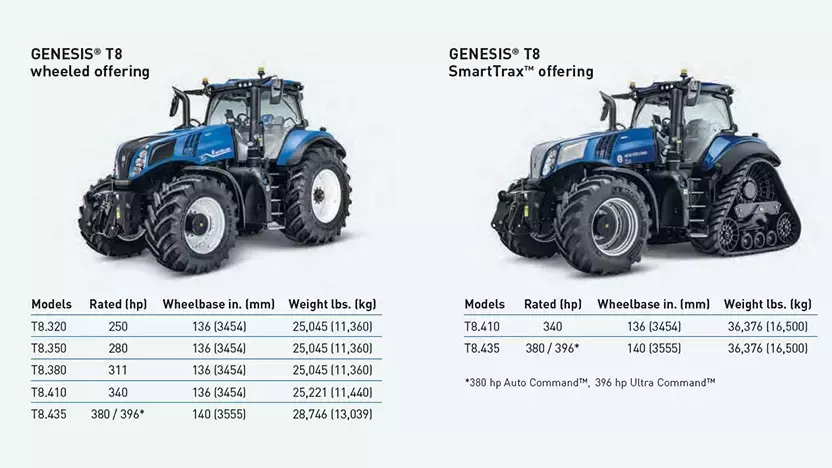 THE RIGHT MODEL FOR YOUR BUSINESS
Selecting the right GENESIS® T8 tractor for your business is made easier thanks to New Holland offering a choice of power output, transmission type and both wheeled and versatile half-track SmartTrax options. Your New Holland dealer can help you choose options to include front linkage and PTO packages, cab and front axle suspension, a choice of work lights, in-cab refinements and, of course, fully integrated guidance packages. With New Holland, choice comes as standard.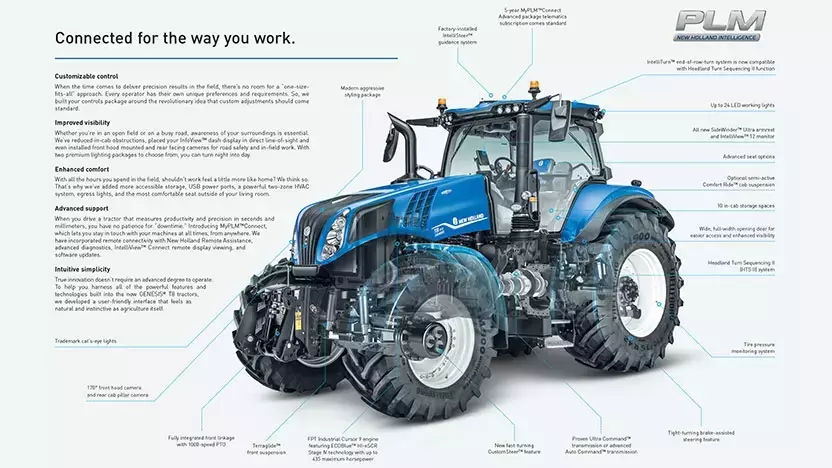 ENHANCEMENTS
With customizable controls, improved visibility, enhanced comfort, advanced support and intuitive simplicity at your fingertips, the GENESIS® T8 with PLM Intelligence™ is the tractor of your successful future.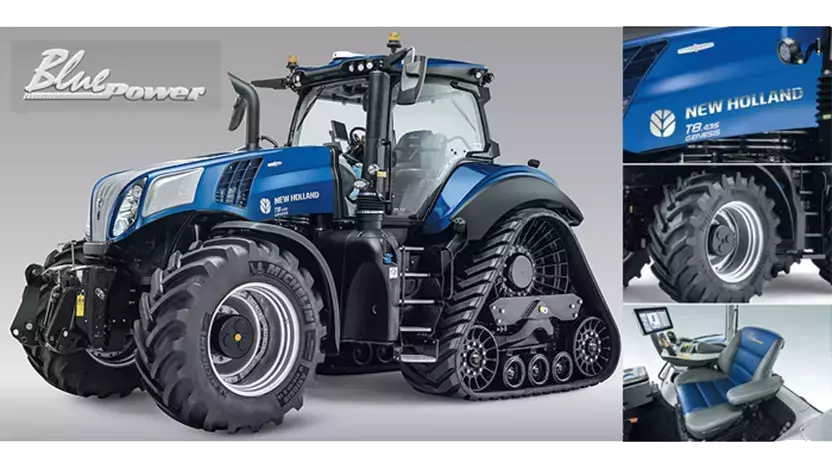 BLUE POWER. EXCLUSIVE EDITION.
The Blue Power range was developed for those agribusinesses which are looking for the ultimate in premium agriculture. Here performance and comfort are of supreme importance. Add to these attributes exclusive styling and you've discovered the most luxurious tractor range ever. Ultimate comfort, cutting edge technology and eye catching design. If you want your tractor to stand out in the field not only for its performance, but also for its looks, then you've found your answer. Available exclusively with an Auto Command™ continuously variable transmission, the Blue Power range is tractor luxury personified. • Distinctive and eye-catching metallic midnight blue paint • Chrome colored grille • Silver wheel rims • Silver 3D decals • Blue Power roof insignia • Available on all GENESIS® T8 Auto Command™ models • Blue Power branded black thick pile cab carpet
Financing and
leasing available
The equipment you need, the payment plan that works for you.
At Terapro, we have various financing options offering the best rates on the market for your purchase or long-term lease of new or used equipment. In some cases, we'll buy back your used equipment. Talk to your representative for more information!
Aucun résultat trouvé