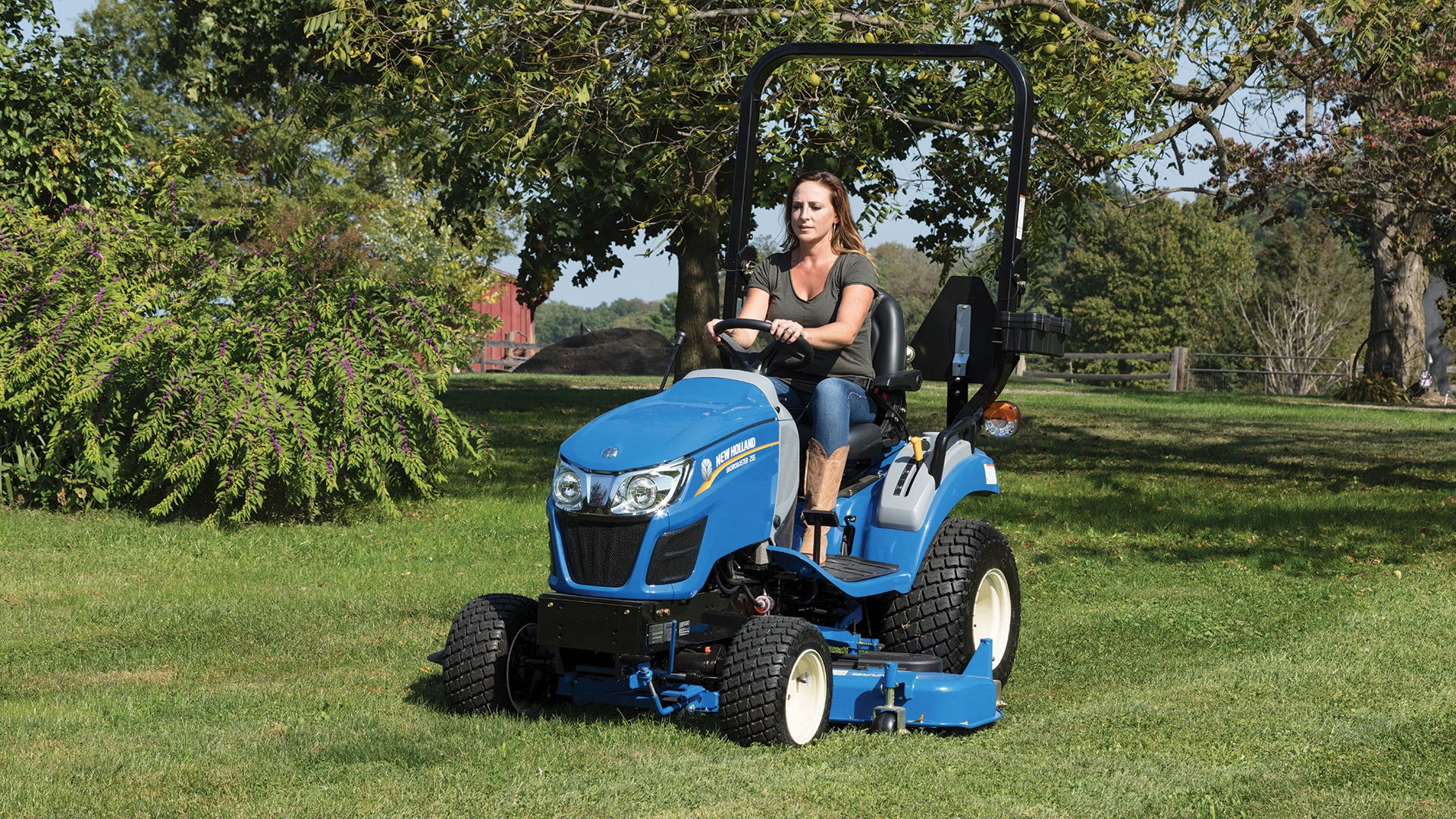 Sub-Compact Workmaster™ 25S Agricultural Tractor
RUGGED, EFFICIENT POWER
The WORKMASTER™ 25S' large displacement, fuel efficient diesel engine has the power you'll need to make short work of your to-do-list.
SIMPLE TO OPERATE
With its well placed, clearly marked and color coded controls you'll be operating the WORKMASTER™ 25S like a pro in no time.
EASY ON AND OFF
New Holland WORKMASTER'S tractor CLEAR-THRU, flat deck operating platform makes getting on and off a breeze whether you choose a Cab or an Open-air ROPS platform.
BOOMER GUARD6
You get the peace of mind of New Holland's FREE Boomer Guard6 Limited Warranty that includes 2 years of "bumper-to-bumper" coverage plus an extra 4 years of powertrain protection.
SMALL BUT MIGHTY
The WORKMASTER™ 25S sub-compact tractor is the perfect "first step" tractor for homeowners and AG-lifestylers who need a hard-working, versatile small tractor to handle the chores a garden tractor just can't. It's ready to take on your yard, landscape, gardening and property maintenance jobs. Its compact size makes it easy to operate and maneuver around obstacles and in confined spaces.
A PACKAGE THAT'S RIGHT FOR YOU
Choose a tractor and implement package combination that's right for your needs. Open-air ROPS platform • Loader package • Loader backhoe package • Loader and mid-mount mower package • Mid-mount mower package Cab • Loader package • Loader and mid-mount mower package The LC100 front loader turns you into a one-person moving crew, allowing you to load and move dirt, mulch, firewood, snow and more. The 905GBL backhoe adds digging, excavating and trenching to your capabilities. The mid-mount mower mows five-foot wide to cover large lawns in a hurry.
Financing and
leasing available
The equipment you need, the payment plan that works for you.
At Terapro, we have various financing options offering the best rates on the market for your purchase or long-term lease of new or used equipment. In some cases, we'll buy back your used equipment. Talk to your representative for more information!