DENSITY IS THE DIFFERENCE
The Roll-Belt design can build the industry's densest bales to help lower your operating costs.
DESIGNED WITH YOU IN MIND
Standard features like banked grease zerks, hydraulic pickup lift, a premium cut-out clutch and wide-opening shields ensure that you stay productive.
INNOVATION THAT PACKS PAYBACK
Durable pickups, smooth feeders, and heavy-duty rolls partner with short, tough belts for fast core starts and uniform bales in any crop type.
PRECISION TOOLS THAT IMPROVE PRODUCTIVITY
Precision solutions, like IntelliBale™ baler automation, in-cab density control and factory-installed moisture sensing help you produce better bales.
THE RIGHT ROLL-BELT
Whether you're a part-time farmer occasionally baling 20 acres or a custom operator with 20 customers, there's a Roll-Belt round baler to suit your needs.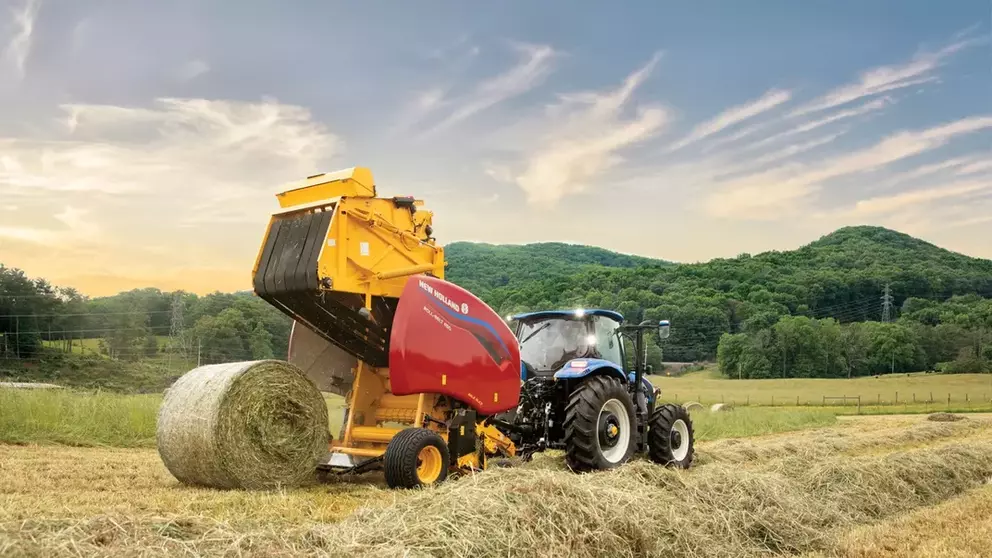 DENSITY IS THE DIFFERENCE
Regardless of whether you're baling dry hay or heavy silage, slippery straw or coarse cornstalks, Roll-Belt round balers deliver the bale density you expect. Dense bales result in savings that you can take to the bank, by reducing soil compaction, minimizing plant damage for faster regrowth, improving tonnage in the next cutting, lowering your operating costs and time, and enhancing animal health through greater retained forage quality
PRECISION TOOLS THAT IMPROVE PRODUCTIVITY
Whether you're using the latest tractors and technology or no-frills classic iron, Roll-Belt round balers offer you a host of precision solutions to improve your baling experience. From intuitive monitors to solutions like IntelliBale, you'll bale smarter and faster than ever before.
PROUDLY BUILT IN NEW HOLLAND, PENNSYLVANIA
Our 341-acre campus in New Holland, Pennsylvania serves as our North American headquarters and global Center of Excellence for Hay and Forage. Here, the expertise of our engineering, research and development, marketing, and manufacturing teams come together to build round balers alongside other products like small square balers and Discbines® — all with haymakers like you in mind.
OPEN YOUR BALING WINDOW
When you treat hay with New Holland CropSaver™ hay preservative, you can bale at moistures up to 30% without worrying about heating or mold damage. That means you can start baling earlier and stay in the field later to finish on your schedule, no matter the weather conditions. CropSaver preservative also helps to maintain both the fresh smell and green color of hay, even after it's stored.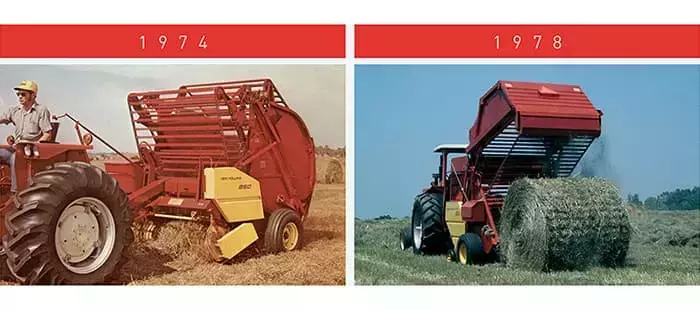 A LEGACY OF BALING INNOVATION
For more than 70 years, our red and yellow paint scheme has proudly stood for innovation and quality haytools. As a nod to our round baler heritage and a bold look to the future, new styling has been applied to Roll-Belt round balers. Our chain-type round balers from the 1970's and 1980's sported a yellow pickup, rims, and a greater presence of yellow on the side shields. By incorporating yellow paint on the frame of our newest balers, you get better visibility from an operational, service, and safety perspective. When combined with new Natural Flow decals first introduced in our BigBaler 340 High Density large square balers, these balers offer a bold new look to drive us forward in the field.
Roll-Belt™ 450 Utility PLUS
| | |
| --- | --- |
| DIAMETER, IN. (CM) | 36-60 (91.5-152) |
| WIDTH, IN. (CM) | 46.5 (118) |
Roll-Belt™ 450
| | |
| --- | --- |
| DIAMETER, IN. (CM) | 36-60 (91.5-152) |
| WIDTH, IN. (CM) | 46.5 (118) |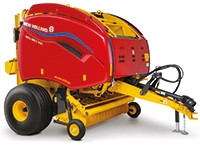 Roll-Belt™ 460
| | |
| --- | --- |
| DIAMETER, IN. (CM) | 36-72 (91.5-182) |
| WIDTH, IN. (CM) | 46.5 (118) |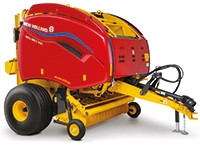 Roll-Belt™ 560
| | |
| --- | --- |
| DIAMETER, IN. (CM) | 36-72 (91.5-182) |
| WIDTH, IN. (CM) | 61.5 (156) |
Roll-Belt™ Round Balers – Brochure
Roll-Belt™ 450 Utility PLUS Round Baler – Launch Brochure
Financing and
leasing available
The equipment you need, the payment plan that works for you.
At Terapro, we have various financing options offering the best rates on the market for your purchase or long-term lease of new or used equipment. In some cases, we'll buy back your used equipment. Talk to your representative for more information!
Aucun résultat trouvé