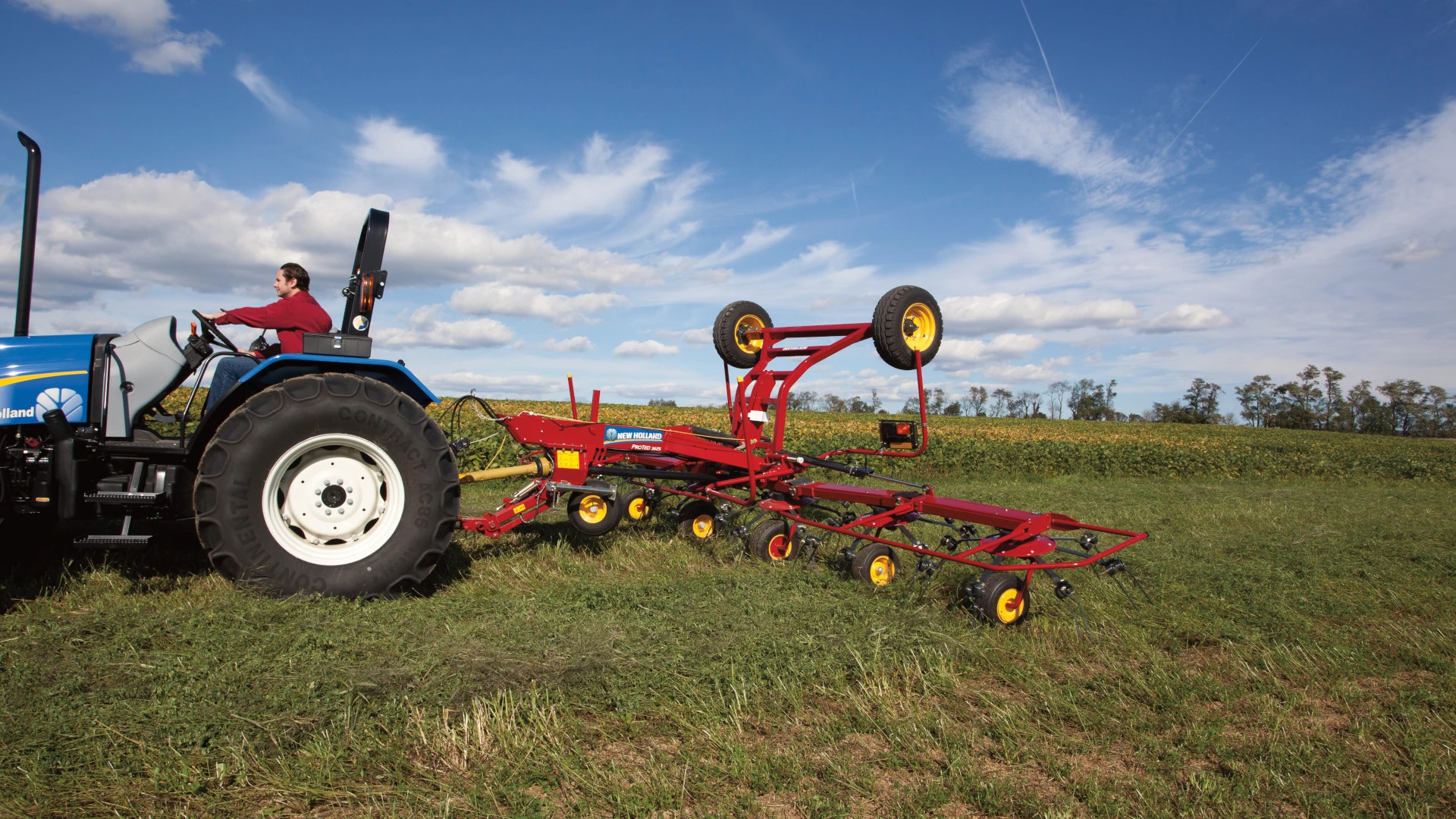 ProTed™ Agricultural Tedder
DRY HAY THE FAST AND PROFESSIONAL WAY
ProTed™ rotary tedders help you make high-quality hay in difficult weather conditions and climates by fluffing and scattering your crop to expose it to sunlight and air for quicker drying.
EASY GEARBOX MAINTENANCE
Simple service comes standard. The ProTed 3417 gearbox requires periodic, simple greasing, while the ProTed 3625 has permanent oil-bath lubrication to simplify daily maintenance.
HEAVY-DUTY RELIABILITY
A heavy-duty, one-piece boxed metal frame has a single welded seam and modular gearboxes that do not serve as part of the frame. Large drive shafts and double U-joints allow for smooth power transfer through the frame to follow the contours of your field.
FAST TRANSPORT
Travel down the road with ease and confidence. The ProTed 3417 combines the tine height and hydraulic folding system together, while the ProTed 3625 has an integrated transport chassis system that supports the machine on 15-inch transport tires for a wide, stable stance.
PROTED™ 3417
This four-rotor tedder is perfect for traditional haymakers using nine- or ten-foot-wide mowers. Six tine arms per rotor and a low overall weight make this model perfect for smaller tractors as it requires a minimum of just 20 PTO horsepower to operate.
PROTED™ 3625
This six-rotor tedder boasts a working width of nearly 25 feet for 50% more productivity than four-rotor models. The extra width means you can maintain your ideal tedding speed and fluff three swaths simultaneously to finish faster. Each rotor uses seven tine arms to handle heavy windrows from larger mowers. Since not all crop conditions are the same, the wheel columns can be adjusted to provide three different rotor angles. The right position can enhance spreading action and help speed up drying. A steep angle is more aggressive, while a flatter angle is gentler to help prevent leaf loss in high-value crops like alfalfa.
BORDER TEDDING PRESERVES MORE CROP
The ProTed 3625 has a border tedding system that lets you hydraulically angle the entire machine left or right without leaving the tractor seat. By angling the rotor, you can avoid unintentionally spreading material onto fences or adjacent fields, helping you keep more of your valuable crop and protect others.
3417
| | |
| --- | --- |
| WEIGHT LBS. (KG) | 904 (410) |
| MINIMUM POWER EQUIPMENT HP (KW) | 20 (15) |
3625
| | |
| --- | --- |
| WEIGHT LBS. (KG) | 2,640 (1190) |
| MINIMUM POWER EQUIPMENT HP (KW) | 50 (37.3) |
Financing and
leasing available
The equipment you need, the payment plan that works for you.
At Terapro, we have various financing options offering the best rates on the market for your purchase or long-term lease of new or used equipment. In some cases, we'll buy back your used equipment. Talk to your representative for more information!
Aucun résultat trouvé