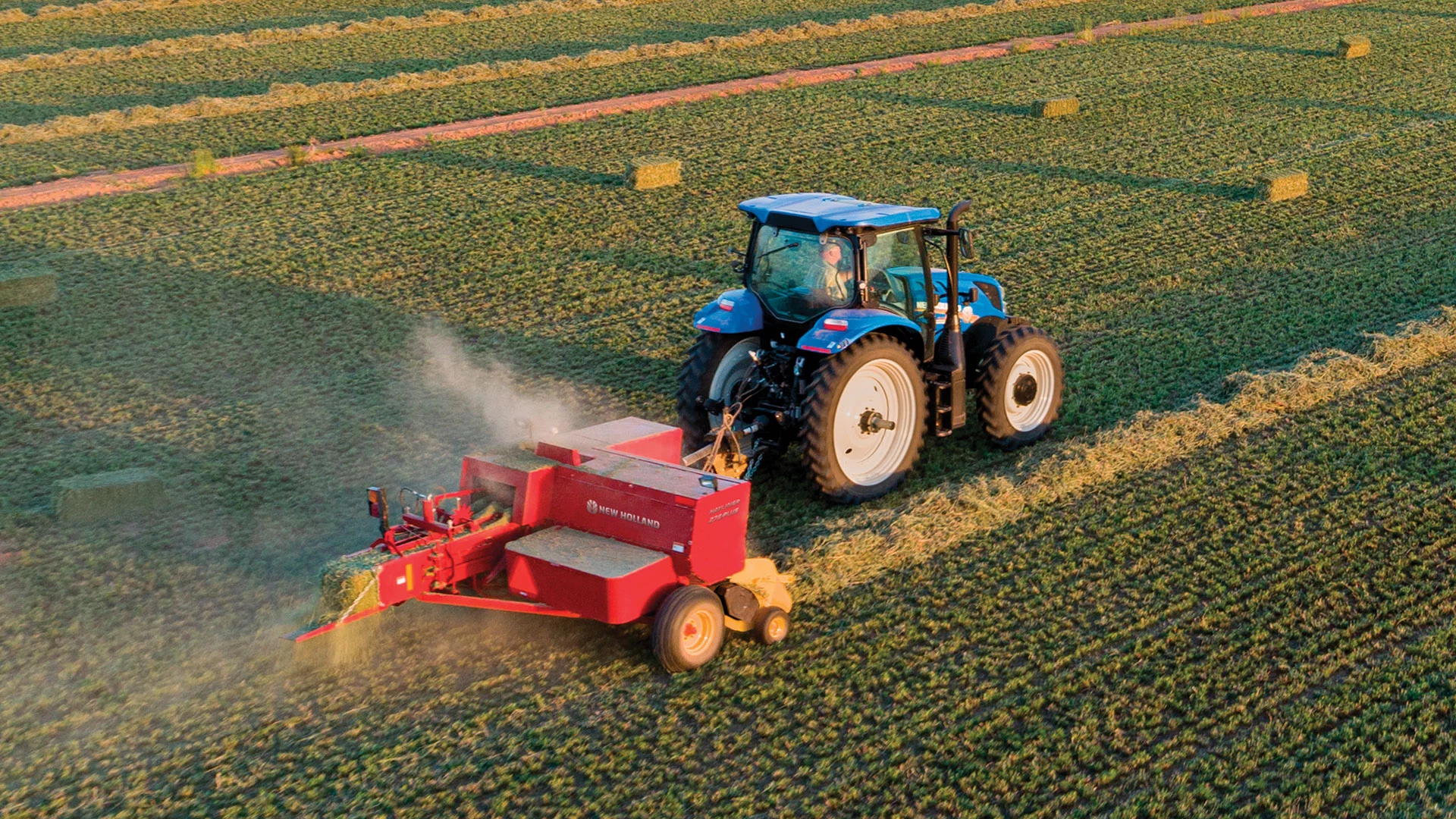 Hayliner® Small Haying Square Baler
A LEGACY OF INNOVATION
The Hayliner® name proudly returns across all models—fusing this legendary name, time-tested performance, and reliability with modern styling.
BIG CAPACITY FOR SMALL BALES
The durable rotary feeding system provides smooth and even crop flow, while the powerful plunger runs at 93 strokes per minute to handle big windrows at impressive speeds.
DEPENDABLE DRIVELINE
From the Power-Pivot joint that minimizes driveline wear and chatter to the Category 6 driveline, 248-pound direct-drive flywheel, and high-capacity hypoid gear drive gearbox, the Hayliner Series offers reliable power transfer for robust performance.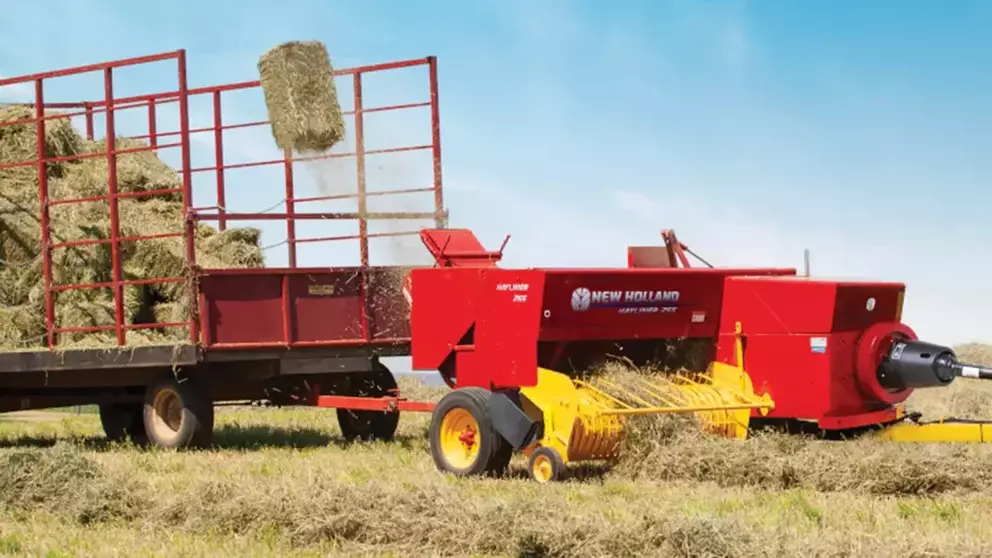 BENEFITS AT YOUR SIDE
The time-tested side-fill design provides you with convenience and confidence. In the field, the baler swings out to the right of your tractor, making it easier to see than an inline baler design. Additionally, this design also means windrows won't bunch up as they pass underneath a low tractor drawbar or hitch pin.
THE RIGHT MODEL FOR YOUR OPERATION
The Hayliner 265 is perfect for traditional baling operations with its 65-inch wide five-bar SuperSweep™ pickup, heavy flywheel, and fast, 93 strokes-per-minute plunger speed. Choose between the reliable wire twisting system or the standard-duty twine knotter. For larger baling operations, the Hayliner 275 has a larger 75-inch-wide six-bar SuperSweep pickup with a pneumatic gauge wheel and a heavy-duty twine knotter with a split frame for easy servicing and reliability. For professional-grade performance, commercial operations should select the Hayliner 275 PLUS for superior bale density and shape ahead of collection systems. Along with the same features as the Hayliner 275, it's also equipped with hydraformatic, four-way bale tension, cast iron hay wedges, hardened plunger rails, a longer, heavier bale case for unsurpassed reliability, and a larger twine box. Rest assured – whichever model you choose, you'll get proven reliability, impressive capability, and tight bales that are easy to stack and feed.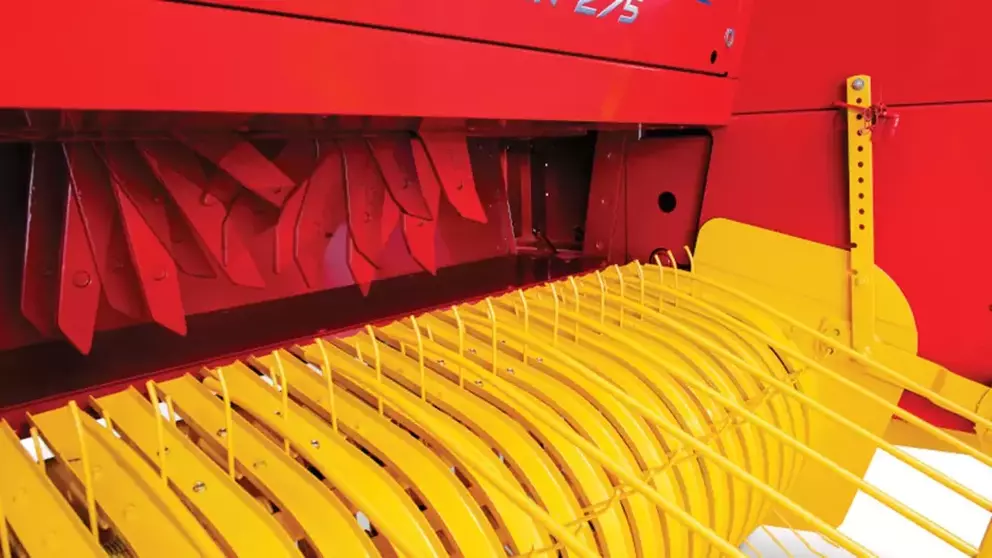 A BIG APPETITE FOR SMALL BALES
Hayliners feature a rotary feeding system that's durable, reliable, easy to service, and simple to adjust. This system provides smooth, even flow of crop through the baler to reduce leaf loss and produce uniform, high quality bales. Crop moves into the bale chamber with heavy-duty, paired, rotating tines and a feeder fork. The system is timed to keep material flowing evenly into the bale chamber by allowing the tines to overlap for smooth, continuous crop movement. For maximum capacity, a fast plunger speed of 93 strokes per minute with a 30-inch stroke means you have the capacity to handle big windrows at impressive speeds.
HAYMAKING'S HEARTBEAT
New Holland's reputation for innovation and quality began with the small square baler—a machine that revolutionized the way farmers harvested hay and straw and transformed the company. From the first successful automatic self-tying Model 73 through the Hayliner Series of today, no other brand comes close to the number of small square balers sold—and that's for good reason. For over 80 years, the steady, mechanized churn of a New Holland small square baler working in the fields has been New Holland's lifeblood and fueled the heartbeat of haymaking heard around the world.
Hayliner® 265
| | |
| --- | --- |
| CROSS SECTION IN. (CM) | 14 X 18 (36 X 46) |
| LENGTH IN. (CM) | 12 TO 52 (31 TO 132) – ADJUSTABLE |
Hayliner® 275
| | |
| --- | --- |
| CROSS SECTION IN. (CM) | 14 X 18 (36 X 46) |
| LENGTH IN. (CM) | 12 TO 52 (31 TO 132) – ADJUSTABLE |
Hayliner® 275 PLUS
| | |
| --- | --- |
| CROSS SECTION IN. (CM) | 14 X 18 (36 X 46) |
| LENGTH IN. (CM) | 12 TO 52 (31 TO 132) – ADJUSTABLE |
Financing and
leasing available
The equipment you need, the payment plan that works for you.
At Terapro, we have various financing options offering the best rates on the market for your purchase or long-term lease of new or used equipment. In some cases, we'll buy back your used equipment. Talk to your representative for more information!